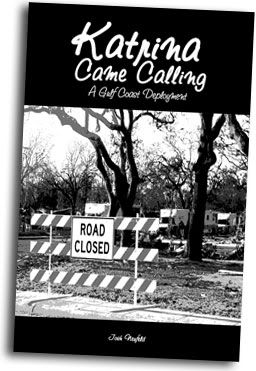 As many of you know, in October 2005, shortly after Hurricane Katrina struck the Gulf Coast, I served a three-week stint as a Red Cross volunteer in Biloxi/Gulfport, Mississippi. I've just self-published Katrina Came Calling, a book (not a graphic novel!) about my experiences.
Taken from my LJ from that period, Katrina Came Calling is an intimate look at my reaction to the hurricane; signing up for Red Cross training; getting deployed; the conditions in the Gulf; working with the survivors; a visit to New Orleans; Port-a-Potties; my co-workers; issues of race, religion, and regional background; returning home; and much more. It also includes tons of photographs and a brand-new introduction. And — in a unique marriage of print and the ongoing conversation of the Internet — Katrina Came Calling includes many of your comments — and my responses to them. They augment the discussion, inform the reader, and otherwise enhance the project.
To all those who read my online journal and took time to respond, you inspired me to keep going, both as a volunteer and as a documenter of the experience. Specifically, these folks "made the cut": aciddust_420, alibi_shop, al_monster, deadredfred, drockdamian, l8blmr, leborcham, man_size, nexusnrg, purvision, pivovision, rojogato, spaceman_fromrc, sugarc0atdlies, thamesrhodes, tracerchick, and wjcohen. (Throughout the book, I use your LJ screen-names — partly for privacy reasons and partly because I don't know some of your real names!) In addition, Michael Simon and a few non-LJ users left anonymous comments.
This self-published booklet is a limited-run "vanity" edition, and as such, I beg your forgiveness for using your words without getting your prior permission. I am offering the book, such as it is, free of charge to everyone cited above. If, after seeing the book, you would rather I took out your comments, just let me know, and I will remove them from all future editions (if there are any). Hopefully, that won't be the case!
So there we go. Katrina Came Calling is: limited-edition, 100 print-run, black-and-white, digest-sized, saddle-stitched, 102 pp. If you're one of those cited above, claim your free copy by emailing me at joshcomix@mindspring.com with your real name and mailing address. Anyone else who'd like a copy can send $5 to: Josh Neufeld, 175 Eastern Parkway, #5C, Brooklyn, NY 11238.
(Thanks to alexdecampi), here's a way to buy the book using PayPal:
That is all.