After reuniting Saturday evening with Sari back at our French Quarter hotel, we headed over to Doctor Lutz's (A.D. character "The Doctor") home for a cocktail party. He had gone all-out in preparation for the shindig, hiring an event planner and ordering 50 copies of A.D. to give out to guests (in addition to the 25 donated by Pantheon). The event planner had images of the Doctor from the book printed onto the hors d'oeuvre serving trays!
The party was everything I would have thought it would be given the host and location — a savory gumbo of New Orleans upper crust society, libertines, and eccentrics — with a politician thrown in the mix. (Edwin Murray, a 2010 candidate for mayor, was there, and Dr. Lutz had me sign his book "To the next mayor of New Orleans.") In addition to the Doctor and his dogs Kip and Rose (both of whom also appear in A.D.), also present were A.D. characters Leo & Michelle, as well as the Doctor's partner Ken Combs, and Ken Colditch and Edwin Curry, who all make brief appearances at the Doctor's house during his "hurricane party". And of course SMITH editor Larry Smith, who made a very gracious toast to the Doctor. There was copious food and drink, and a barefoot "gypsy band" playing fiddles and a washboard, that Dr. Lutz had pulled off the streets in Jackson Square. People lingered late into the night, spread out around the pool, at the back yard tables, and in the Doctor's sitting room.
About halfway through the festivities, I was again sat down at a table to sign books. Again it was a long string of great encounters with amazingly gracious and grateful people. I was thanked again and again for telling the story of Katrina and keeping it in the public eye. (It only occurs to me now, four years after the storm, that much of the rest of the country really has "moved on" from Katrina and doesn't spend some portion of every day thinking about the hurricane and its effect on New Orleans and the Gulf Coast.) Nonetheless, in the midst of that crowd, I did feel a little bit like some kind of curious creature on display for the evening — "Come see the funny Brooklyn cartoonist!" — but I soaked it up regardless.
By evening's end, the Doctor was slumped against his couch with assorted hangers-on, at least "three or four sheets to the wind," as Leo so eloquently put it. After my long day, I was beat, and Sari & I called it a night.
I found out the next day that the band went skinny-dipping in the Doctor's pool; when I mentioned it to him later he drawled, "That's fine, because they needed a bath."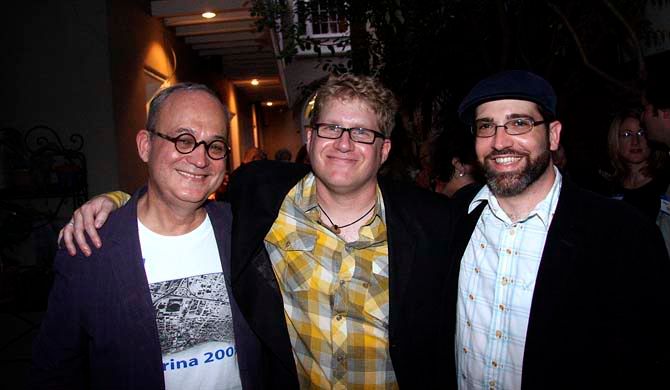 The Doctor, yours truly, and Leo