Remember how in all those World War II movies, there's a guy from Brooklyn in every platoon? You know, there's the grizzled sergeant, the frightened newbie, the farm boy, the rich kid, the blond kid, etc., and there's always the "ethnic" (Italian or Jewish) kid from Brooklyn. That was the role I played in Mississippi. Not only didn't I meet anyone from New York City during my stay, I didn't meet a single person from my Red Cross chapter — which happens to be the largest chapter in the American Red Cross.
Early on in my deployment, I wrote about how so many of my fellow volunteers seemed to be devout Christians, and how strange I felt in that environment. What I finally realized since then it wasn't so much faith issues that separated us, but our employment history and place of origin. No duh!
I'm a "white collar" city guy, born and bred, while the majority of my compatriots were blue collar small towners. It's not so much having money or not, but what sort of jobs you're used to, I guess, that make the difference. I'm sure a lot of those folks have way more disposable income than me. But the experience really pointed out how insular my world is, where all my friends are artists, writers, or journalists, with a couple of lawyers thrown in for "balance." Other than my building superintendent, I don't know many laborers, farmers, electricians, factory workers, or shop owners. There's definitely truth to some of the city-vs-country clichés: for one thing, urbanites definitely talk a lot faster than other folks. And we're way more serious — or is it neurotic? In any case, non-urban people seem generally a lot… jollier.
Combine all these factors with the large number of seniors on the deployment, and we're talking about some big gaps — generational, economic, ethnic, cultural, religious. No wonder I had trouble "connecting" with people for a while. Happily for me, in the last ten or so days that I was there, I fell in with a younger crowd. Even though they also hailed from small towns — in Illinois, Vermont, New Hampshire, California, Kansas, etc., — we had much more in common — and they weren't such Jesus freaks! (Sorry; couldn't resist.) I ended up having some great conversations about our mission, the people of the area, books, sports, TV — stuff other than church groups and people's kids. (Although I had to endure far too many recaps of drunken sex escapades for my taste.) Mainly, I realized that if I had to choose which side I'm on, the 20-Something Searchers or the Wise Retirees, I'm still young at heart.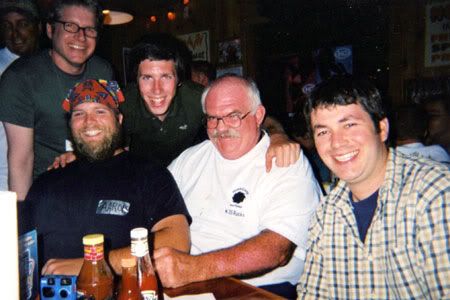 [from left: me, Aaron (29), Chris (20), Tony (50-something), Nate (22)]