My friends at the Red Cross asked for my help when the MTA went on strike. So I showed up at the frigid base of the Brooklyn Bridge for yesterday's "commute" home, as Brooklynites streamed back into the borough after their first full day of no trains or buses. (There were also quite a few folks going the other way, heading into Manhattan at that late hour. Tourists, I guess.) We set up three tables at the end of the pedestrian walkway, each one loaded with drink Cambros, and from about 3:30-8:30 P.M. (with about seven other volunteers), I handed out hot chocolate, coffee, and cookies to the throngs.
The Red Cross sent over an ERV to deliver and prepare the hot drinks, and stepping inside almost gave me flashbacks. Clearly, a transit strike isn't a disaster (at least not one on the scale of a Hurricane Katrina), but it was great to be able to do folks a mitzvah, to ease their trip home. It was also a kick to don the vest and ID again, to be part of something.
After all my experiences in Mississippi, it was almost surreal to be doing similar stuff right here in my hometown. It was also nice to work with local volunteers, to be reminded that there are other New Yorkers in the Red Cross — and that they're just as eccentric and irascible as the rest of us. Mainly, it brought back that incredible sense of wellbeing that only comes from giving something away. When you're out there, distributing free food, you get visions of another (less complicated) world, a society where people just get what they need, no money exchanged, no questions asked. Paradise.
It being the first day of the strike, a sense of adventure was in the air, and even though people were tired and freezing, they were almost uniformly upbeat. I got more smiles and looks in the eye, more genuine expressions of thanks, more actual personal exchanges, than I normally collect in a year. Plus I spotted four friends, including deuxchiens and her man Doug.

Then there was the old Chinese guy, who stood dumbfounded on the ramp, holding his steaming cup and shaking his head in awe. His vocabulary was limited, so he thanked us with a thumbs-up, a huge grin, and the exclamation "New York!" over and over again. And the well-dressed young woman who mixed half a cup of coffee with half a hot cocoa to make her own mocha java. And the numerous folks who asked which Cambro had the rum. Or asked us for directions. Or news on the strike. Not to mention all the assorted wisecracks about the temperature and quality of the coffee. You're not a New Yorker if you can't complain about the service — even if it's free! As the hordes streamed, hobbled, biked, rollerbladed, and scooted by, I was struck with that "only in New York" feeling. We are a special breed, and situations like this just reinforce the determination, pride, and obstinance that characterize us.
As in Mississippi, we were recipients as well as donors: a woman in her mid-30s — very Manolo Blahnik, very Sex in the City, with a lap dog and everything — walked up to the ERV with a plate of goodies for us. Homemade peanut brittle and chocolate chip, cranberry, date & nut cake! Sweeeet! We dug in, and then shared the bounty with the NYPD and Transit Officers in the area.
The volume of people began to slow down around 8 P.M., and we broke down the stations, gathered our trash, loaded back the ERV, and went our separate ways. As I biked back home, face and feet frozen, I reveled in the familiar sensations of fatigue and satisfaction in a job well-done.
Unfortunately, as the strike continues, I'll bet things won't stay so chipper. I can't volunteer the rest of this week, so I'm curious to see how things will change if the strike lasts through X-Mas. For now, folks seem fairly pro-strikers, but if Bloomie and the media continue to trash them in the media, I wonder how long the solidarity will last. I'm curious to see how this will play itself out.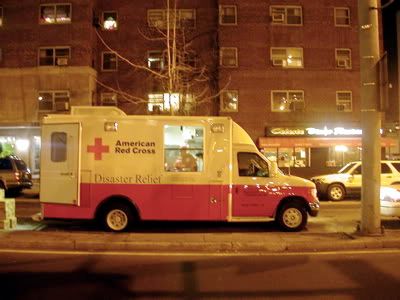 ERV at the ready.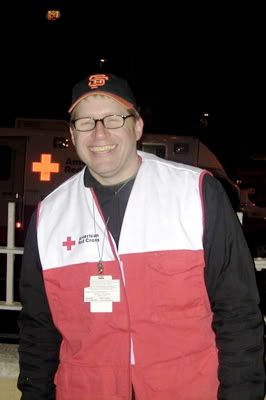 requisite goofy photo.