I've always been a huge fan of the "naive" French painter, Henri Rousseau. His large canvas, "The Sleeping Gypsy" (1897), has been one of my favorite paintings since I first saw it at MoMA in high school. I love the story of Rousseau, that he was self-taught, followed his own painting method, and painted subjects (jungles, wild animals) entirely from his imagination. I'm a romantic, so the idea of that "purity," that lack of concern with craft, excites me; it's so different from my own artistic background and practice.
Anyway, the other day I "discovered" my own Henri Rousseau. His name is J. Williamson, and I found him last Friday afternoon selling his work on the corner of 23rd Street and 8th Avenue in Manhattan.
As I came up to Williamson's sidewalk table, it was covered in tiny oil-painted canvases, 50 or more in total. Each painting was mashed in next to the other. The subjects ranged the gamut, but one that caught my eye right away was a rendition of that infamous Ivan Brunetti picture of Ivan stabbing himself in his eye. I soon saw other themes: classic superheroes like Superman, Batman & Robin, and Captain America; awkward sex scenes; Mr. Met (!); and a number of George Bushes. (One of them showed Bush naked… as a woman. Disturbing.) I was instantly charmed by the artist's lively, childlike touch — and the fact that he had clearly never gone to art school. I also loved the fact that the paintings were so small, most of them less than 4″ wide. Best thing of all was how affordable his pieces were, mostly in the $10-$20 range.
Pointing out the Brunetti piece, I mentioned I was a cartoonist too and struck up a conversation with Williamson. He is a big guy, missing a tooth or two, and has a strong New York accent. He's soft-spoken, with an unkempt, street-person aspect (all feeding into the "naive" artist image). He said he'd been selling on that corner for two-three years ('tho i've been there many times and had never seen him). I asked him about his process and he said he could dash off an incredible 3-4 paintings an hour. I told him about the upcoming MoCCA festival, and recommended he get a table, or at least set up outside the Puck Building, assuring him that he'd sell his whole inventory in a couple of hours. But he seemed nervous — whether from the prospect of leaving his familiar spot, or just not understanding me regarding MoCCA, I couldn't be sure. I didn't push him on it.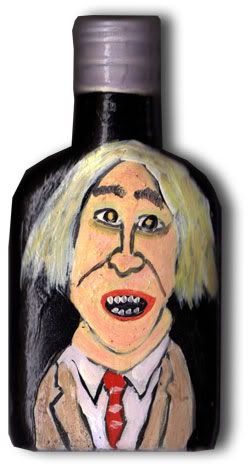 I ended up spending way more money than I planned on three pieces, two of which I show here. I got Sari the painting of the girl and the horse sharing a milkshake. What can be said about it that does it justice? It's just too brilliant! The Warhol piece also called out to me, painted as it is on what seems to be a mini-whiskey bottle. (I know — it should've been on a tomato can! As Williamson told me, he was just beginning to experiment with painting on surfaces like bottles and metal containers.) The third piece — a close-up of a Hulk-like monster's eyes — I got as a little gift for my buddy man_size.
I hope I'm not coming across as too glib about Williamson and his art: I really do love it. I've never been a fan of kitsch or "bad" art, and especially not stuff I would hang on my own walls. I really admire Williamson's talent and offbeat genius — and his pseudo-autistic persona definitely adds to his allure. I'm sure it's only a matter of time before he gets profiled in New York magazine, scores a Chelsea gallery, and starts selling in the six figures.
I could have bought a lot more of Williamson's art that day, but I didn't want to overdo it and blow all my cash. My only regret is not buying the Mr. Met painting, but maybe it'll still be there tomorrow, when I should be back in that neighborhood. It would be so much cooler, though, wouldn't it, if he disappears forever, leaving nothing but a few random samples of his art behind…