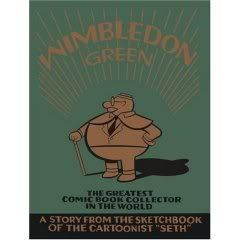 Forgive me if I'm woefully tardy here, but people: Seth is back! Like many of you, I've been turned off of the Canadian cartoonist of late because of "Clyde Fans," the recent story arc of Palooka-ville. I absolutely adore his art, but the artic-like pace and depressing themes of "Clyde Fans" greatly diminished my enthusiasm for his work. Which is really sad because, in my humble opinion, It's A Good Life If You Don't Weaken is one of the all-time great "graphic novels."
Anyway, some time ago I bought Wimbledon Green: The Greatest Comic Book Collector in the World (Drawn & Quarterly), which sat around on my night table for quite a while. Finally, I got up the energy to give it a try, and it was a great decision. Supposedly taken from Seth's sketchbooks, the book is a lively, jaunty, hilarious read!

As Seth notes, inspired by recent work from Dan Clowes, Chris Ware, and David Heatley, the book uses short fragmented episodes, featuring many characters, to tell one over-arching story. The story, ostensibly about a master comic book collector, is a loving portrait of the comics industry, one that encompasses creator, readers — and comic book stores! At the same time, it is a mystery, an adventure story, and a screwball comedy. (And there's even one character who looks strangely like Seth.) In a manner similar to Michael Chabon's brilliant Kavalier and Clay, Seth creates out of whole cloth a history of comics similar to our own. Fitting his own tastes, most of the comics are of the non-superhero variety, reflecting a much more ecletcic mix of genres.
And despite its less-polished style, the artwork is classic Seth, with that beautiful clean line, use of simple shapes, loving attention to architectural detail, and his characteristic ink wash shading.
So if you've been leery of Seth's work of late, take another look and check out Wimbledon Green. It would even make a great last-minute holiday gift, for the old-time comics fan or the neophyte.
* * *
My delight with Wimbledon Green compelled me to give another recent Seth book a try, Bannock, Beans and Black Tea: Memories of a Prince Edward Island Childhood in the Great Depression (also Drawn & Quarterly, and supposedly out of print?), written with his father John Gallant. (As many of you know, Seth's given name is Gregory Gallant.)
Rather than a vanity project for Seth's dad, this is actually a fascinating portrait of a pioneer-type childhood. John Gallant grew up dirt poor in a remote rural part of Prince Edward Island. Taken from the stories Seth's dad told him on long car trips, the book is told in 4-5-page vignettes, interspersed with more of Seth's gorgeous illos. Like Wimbledon Green, the short pieces add up to an engaging story—and a pleasantly quick read.
As Seth remarks in the foreword, these tales of near starvation, freezing 10-mile walks, begging from the village priest, and the like, are so wry and entertaining that you almost forget the misery that accompanied them. And like Wimbledon Green, Bannock, Beans and Black Tea is beautifully designed, by Seth himself, and is an art object in itself. It makes another great gift, even for a kid as young as ten.
And thus concludes this meeting of the Seth Re-appreciation Club. Happy hollerdaze!