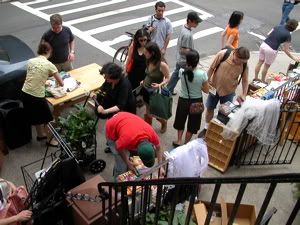 2006 (June 17)
Brooklyn — As in past years, the 6th Annual sale features our hosts wjcohen & Alison, their cutey-pie daughters Lila & Ruby; as well as lovebirds Stinky & Betsy; newlyweds Joy & Rob; newcomers Kristen and Kevin; and of course Sari & yours truly. Though we all miss Stooper Supreme Rebecca (away in L.A. for the weekend), we trust she'll join us next year at the new Carroll Park location (where wjcohen and his brood are relocating).
Overall, the sale is a resounding success, with everyone relieved to be rid of their unwanted junk and equally happy to have a couple more dollars in their pockets. I'm particularly pleased to unload a good chunk of my 1980s/90s superhero comics dreck. For 25 cents a book, or 5 for a $1, who can complain? I even sell 25 comics at one shot for a movie's set dressing! My only true disappointment is not selling my old color TV, which I had held on to from last year's sale. Pathetic as it sounds, I actually had an emotional attachment to that TV, as it was one of my first "grown-up" items, purchased shortly after I moved into my first post-college apartment. Sure, it's almost 20 years old, but it still works fine, has all its parts, and I wanted to see it passed on to a worthy viewer. But, alas, it is not to be, and now the TV sits in the Atlantic Avenue Salvation Army Thrift Store…
Some sellers, however, do better than others: Proving the power of "perceived value," Joy and Kristen price their clothes and sundries in the $5-10 range (instead of the typical $2-4) — and end up as the day's biggest profiteers. (It may also have something to do with the quality of their merchandise, but I wouldn't know…)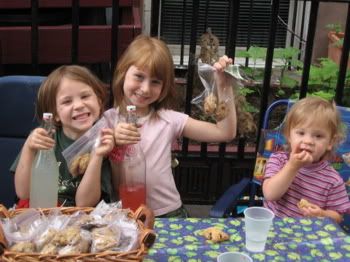 Alison and Lila once again break out the cookies & lemonade (this time in two flavors), and Lila gains two new assistants, l'il sis Ruby and pal Bella. All that cuteness on display is too much for passers-by and shoppers to withstand, and the goodies are all gone by lunchtime.
(Question: How is that after my near-demise from heat prostration of last year, we still end up holding the sale on virtually the same weekend in June, with temps nearing 90? Well, it works out okay — not burdened by a recently-broken finger, I slather on the sunscreen and withstand the warmth.)
At the conclusion of the sale, we wake Sari & Betsy from their naps, catch the last somnolent minutes of the U.S/Italy World Cup match, and head over to picturesque Cobble Park for an al fresco picnic dinner.
Challenge Item: My entries are three plastic checkbook holders (you know, the ones you get free when you order checks) and a collection of cheap refigerator magnets (you know, the ones you get as promotions from your hardware store and your college reunion committee). I'm willing to sell the checkbook holders for a nickle apiece, and the whole set of magnets for a quarter. Rob is offended by the "garbage" and thinks it brings down the standards of the whole sale. He may be right: shockingly, I get no takers!
wjcohen truly scores with his challenge item, an unopened pack of 45 RPM record inserts which he unloads on a middle-aged couple for $1. Later, however, true to form, he suffers a debilitating case of seller's remorse, sure that he has basically given away a rare collector's item — new in box!
Turns out that wjcohen's day is full of challenges, as he also sells a broken DVD player for $1 and a damaged child's bed for $5 (after refusing to sell the bed for $10). Ladies & gentlemen, I present the new Challenge Item King: Warren Jared Cohen!
European Bargain Hunters: Surprisingly light this year, but does the Finnish man who bought the framed poster of the Flatiron Building count?
Painful Purchase: In the category of this-hurts-me-more-than-it-hurts-you, after selling Kristen's wooden table for $15, wjcohen somehow volunteers me & him to deliver it to the buyer's apartment. We lug the unwieldy thing down the street, up two flights of stairs, and through the narrow doorway — and then turn down the buyer's offer of a $20 "tip." We just couldn't accept it in good conscience — after all, we've got reputations as sellers to protect; the moving business is already cornered by Moishe's.
Near Disaster: Joy is kind enough to drive me and Sari home after the sale, but on the way back to Carroll Gardens gets caught in the Grand Army Plaza roundabout and barely escapes with her life. Never again!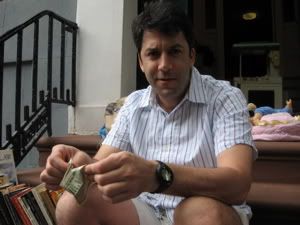 Stinky with loot

Big Ticket Item: Expert Stooper and ultra-streamlined Stinky unloads his single item, an old dresser, for $20! With this sale, Stinky announces his retirement, going out on top and refusing to "stoop" to my checkbook-holder-refrigerator-magnet level. Jerk!
Total take: $75. Using wjcohen's accounting method, given that I woke up at 6:30 a.m. and we dropped off the unsold merchandise at the Salvation Army at about 5:30 p.m., that comes out to almost $7/hr. Not bad for a summer job!