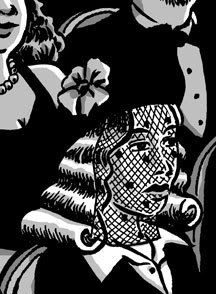 I drew a play, and my drawing is the play. (Along with some whale sounds.)
The prolific Pulitzer Prize-winning playwright Suzan-Lori Parks undertook an amazing challenge in 2002–2003, when she wrote a short play every single day for a year. The result is the 365 Days/365 Plays National Festival, which from Nov 13, 2006–Nov 12, 2007, is presenting the work simultaneously across the country, creating the largest collaboration in the history of American theater. The plays may be performed in one night or over the course of the entire week. That, in addition to where and how they are produced, is up to each participating company.
In New York City, The Public Theater is spearheading 365NYC. Over the course of this year, over 60 selected theater companies — curated by The Public and the 365 Days/365 Plays National Festival — is performing these brief, brilliant plays. Each week, selected theater companies are producing one week's worth of plays, each ranging from one to five pages in length. The theatre group I work with, The Civilians, are producing this week of 365, from April 23 to 29.
In addition to presenting the plays live this week (and later as part of the whole month of plays at the Public), The Civilians are also presenting the plays on their website. Civilians director Steve Cossen asked me to help, by adapting one of the "constants" (short plays which are eligible for presentation by all the theatre groups at any time during the year), entitled "Action In Inaction." And this is what we came up with. (Make sure the sound is turned on in your computer!)
Personally, I find it an amusing — and shall I say thought-provoking? — presentation of the script. Others may scoff. Your reaction?
P.S. The Civilians will also present the plays as a hybrid live and recorded event Thursday, April 26, 9pm; Friday, April 27, 9pm; and Saturday, April 28, 4pm, at the Barrow Street Theatre, in New York's West Village. Free; email kyle@thecivilians.org to reserve. The live version of the plays will be reprised for The Public Theater's First Sundays Series on Sunday, May 6, at 3pm and 7pm. To reserve, call 212.967.7555 from 10am to 9pm, Mon-Sun, or visit the Public Theater Box Office, 425 Lafayette Street (between Astor Place and East 4th Street).