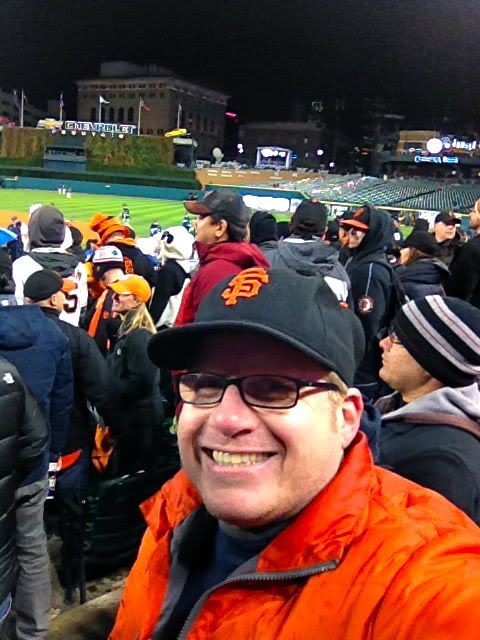 There are "bucket lists" and then there are bucket list items you don't even think about because they are so far beyond the realm of possibility. One of those for me has always been getting to see my team, the San Francisco Giants, win the World Series—in person. And yet, yesterday that's exactly what happened.
First of all, what are the odds that the one year I'm living in Ann Arbor, Michigan, both the Giants and the Detroit Tigers make the playoffs? And then each survive two rounds of postseason play to make the World Series? And then, when the Giants come to Detroit, they go up 3-games-to-0—thereby depressing ticket prices to the point that I can actually afford to buy one? Like I said, beyond the realm of possibility.
Well, along about 3 p.m. Sunday I checked StubHub and found an affordable ticket—prices had dropped from $400 for standing room to $100 for an upper deck seat. I made the purchase, jumped in a Zipcar, and sped excitedly out to Detroit and Comerica Park.
I found parking, strolled to the stadium, and took in my first-ever World Series game. (I had been to a first-round Yankees playoff games a few years back, but the stakes were not nearly as high.) The stadium was packed, the lights were bright, and hopeful Tigers fans (and a few hardy Giants rooters) were streaming in. For me it was like a dream.
Climbing up to my seats (section 211, in right field), it was freezing cold, with the wind howling and shaking the stands. But I was cozy as a cat. As opposed to my normal anxiety and resignation that the Giants would probably lose, up to that point the whole World Series had been going so well that I was in a completely different frame of mind. It was like the Giants beating the Cardinals in the NLCS, after trailing 3-games-to-1, had completely wiped the slate clean. No more sweet torture. The Giants' pitching, timely hitting—and the obvious rust the Tigers had after waiting so long between their own league championship and the beginning of the World Series—made them the superior team. New emotions!
Now, seeing as how I was sporting my Giants cap and bright orange jacket, I came in prepared to be heckled, jeered, pushed around, and spat on. I shudder to think how I would've been treated back in New York—in either Yankee Stadium or Citi Field—but the Tigers fans were totally sweet, everyone just enjoying the vibe of World Series baseball and communal huddling against the cold. (I also think in many ways the fans had already accepted that they weren't going to prevail in the end; after all, no team has ever come from back down 3-games-to-0 to win the Series.)
The rest of the evening unfolded like a dream. The Giants went up 1-0, fell behind 2-1, went up 3-2, were tied at 3-3, and won the game in 10 innings. And suddenly there I was, hugging two total strangers (fellow S.F. rooters a few seats down from me in my row), watching the Giants pile on each other near the pitcher's mound! Shortly afterward, as I was wandering around in a happy daze, a young Tigers fan of about 17 years old actually came up to me and shook my hand in congratulations. Now that's a boy whose parents raised him to be a good sport!
I eventually made my way down to field level—kudos to Comerica management for allowing riff-raff like me down there—to get close to the on-field celebration. All the San Francisco fans who'd made it to the game—a few hundred of us—had gathered above the Giants dugout to savor the moment. I had to keep pinching myself because it was so hard to believe I was actually there in person for the celebration. It was an amazing scene, converging with all these other fans who'd traveled from far and wide. Two guys I talked to had also purchased their tickets that day, had driven six hours from upstate New York, and were preparing to drive back following the celebration. (By this time it was already long past midnight.) Another guy had also bought his ticket same-day and driven four hours from Cincinnati. He was also going back that night/early morning. Given that I had paid less than any of them for my ticket, and only had a 40-minute drive home to worry about, I felt like I was sacrificing very little for the privilege of being there.
I discovered when I lived back in San Francisco in the late 1990s that Giants fans really are a special breed. They are as devoted and dedicated as any East Coast fans, but without the caveman edge. For one thing, there are lots of rabid female fans, and they all have a good sense of humor. And Giants fans wear all sorts of ridiculous outfits: panda hats, Brian Wilson beards, orange and black Rasta wigs, you name it. And pins! Giants fans love to wear pins. All this "character" was in evidence among the assembled throngs, and it really made it feel like some beautiful Bay Area weirdness had settled down for the night in the middle of the Great Lakes.
As Giants players emerged from the dugout—mostly drenched with Champagne—the crowd serenaded them: Panda—your World Series Most Valuable Player! Baby Giraffe! The Freak! RallyZito! Marco "Blockbuster" Scutaro! (Why isn't his named pronounced MARco ScuTARo? And if he's Venezuelan, why does he have an Italian name?) Even injured closer Brian Wilson made a quick appearance, scuttling by before we even registered it, almost like a Sasquatch sighting. Giants announcers Kruk & Kuip were there too, also greeted by the crowd. And writers like Ray Ratto and Yahoo Sports' tiny Jeff Passan were there too.
The crowning moment was when Giants GM Brian Sabean emerged from the dugout with the distinctive silver World Series trophy, which he held up in triumph for the adoring crowd. That was truly special—a tribal chief exulting with the spoils of victory.
Finally satisfied, I left my clansmen (and clanswomen), headed back to my car, and made the drive back to Ann Arbor. It was 2 a.m., I was exhausted, and I was as happy as I could ever be.
Definitely not too much of a good thing.