[Continuing my run-down of the A.D. book tour…]
My next stop after the NYC book launch was Chicago, Illinois. There was something fitting about coming back to Chicago, as that was where my comics "career" (such as it is) started: it's where I lived when I got my first breaks: The Big Book of Urban Legends, Duplex Planet Illustrated, and American Splendor.
Arriving in Chicago Friday, August 28 (earlier than I would've liked), I was picked up by my literary escort, who was assigned to get me to the WGN-TV studios for a mid-day news segment. The escort was nothing like what I expected: instead of an effete, rumpled, mustachioed man, Bill was a tall, burly, classic Midwesterner who liked nothing better than talking baseball (specifically the White Sox). He drove me over to the studios where I taped a quick segment on the book. Things went well, but it's hard for me to watch the tape; they say the camera adds ten pounds, but the way I was slumped back in my chair added at least another ten. Ugh.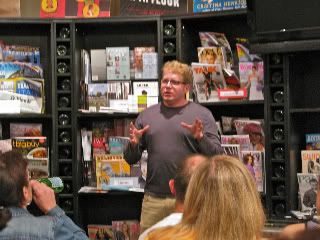 The event that night was at the Book Cellar, in Lincoln Park. I'd heard a lot of great things about the place, particularly from Larry Smith and Rachel Fershelisher, who landed there during their Six-Word Memoirs book tour. The Book Cellar serves wine (as well as the usual tea & coffee) while you peruse your favorite books. The event itself went really well, with about 40 people in attendance, including my old Chicago pals Amy & Lee, and Zoe & Mark, as well as some old co-workers from the late, lamented Ligature. A couple of old Chicago area-comics pals showed up as well: Steve Darnall of Empty Love Stories and Uncle Sam, and Mike Fragassi, a comics critic from the baby days of the Internet. And last but not least, noted Chicago cartoonist Jeffrey Brown made the scene as well (and even stayed around to chat afterward, which was a nice treat). The crowd was really receptive to the book and ran me through the best Q&A session to date. After a drink and a bratwurst with Zoe, Mark, my Ligature buddy Angela, and some others at the next-door beerhall, I headed back to Amy & Lee's, my hosts for the weekend.
The next day was August 29, the actual fourth anniversary of Hurricane Katrina. My only event was an "author coffee" at Amy Davis's writing workspace, where I walked 11 people through the origins of A.D. Everyone there was a writer of some kind, with a range of interests in self-publishing, web-to-print projects, and comics, and we spent a lively couple of hours chewing the fat.
I spent the rest of the afternoon hoofing around the old 'hood, down in Wicker Park, which has changed a lot since the mid-1990s. But my favorite neighborhood Chinese place, Mon Lung, is still in business, and I lunched on the best mongolian beef I've found in these United States. I also visited Quimby's, where I signed a couple of books and where the manager, Liz, snapped my photo. The day ended with an awesome dinner over at Mark & Zoe's house, along with Amy & Lee.
Sunday was a day off, and I got to hit Wrigley and take in a Cubs game — oddly enough, versus my own hometown Mets — and then later that evening augmented the decadence with an actual movie. District 9 was a bit of a letdown from a great premise, but still eminently entertaining. A mid-day flight Monday from O'Hare brought me back to NYC, and I even made it home in time to pick up Phoebe from daycare.
The weekend in the Windy City was a great balance of flogging A.D. and enjoying some much-needed down-time.