I wanted to let you know about a couple of radio appearances I'll be making tomorrow (Thursday, Sept. 3). If all goes according to schedule, A.D. character Leo McGovern and I will be on the syndicated NPR show "Tell Me More." Normal host Michel Martin is away, but we had the good fortune of being interviewed by long-time NPR news anchor Linda Wertheimer! In New York, "Tell Me More" is on WNC AM 820 at 2pm and again at 10pm; outside of NYC look for listings in your local area.
I recorded the "Tell Me More" interview today, and it will air tomorrow right around the time I will be appearing LIVE on another syndicated radio program: Jack Rice's show on Air America. I'm supposed to go on air with him at 2:30 tomorrow afternoon. Let's hope the two segments don't overlap; it'll be very odd to be appearing on the radio simultaneously on two different stations. I'm not sure if you can hear Rice's show In New York, but you can listen live online; outside of NYC, you can find your local affiliate by visiting the Air America website.
Also, if the stars align, A.D. character Kwame Webster and I will be appearing on the Tavis Smiley Show this weekend. We got bumped last week by coverage of Ted Kennedy's death, but hope to make it on the program this time around.
By the way, if it's not obvious, I'm a huge NPR fan; I basically have it on all day while I'm drawing. Talking to Linda Wertheimer was both familiar and surreal: I'm used to hearing her voice all the time, but never actually talking to me! Anyway, Pantheon publicity maven Sara Eagle and I had a lot of fun at NPR's New York studios. And they were nice enough to present me with a goodie-bag on my way out. Check it out: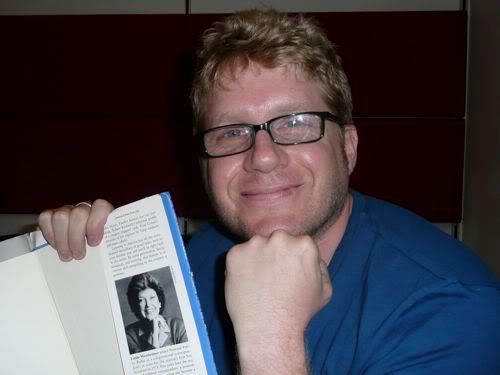 Linda and Josh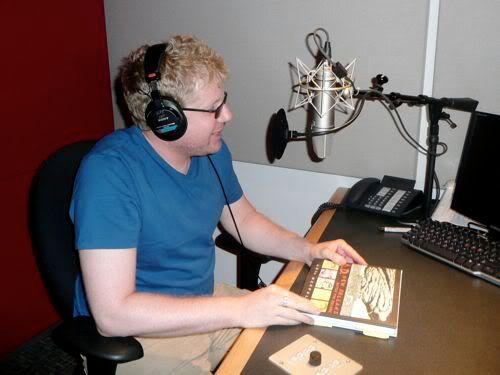 At the mic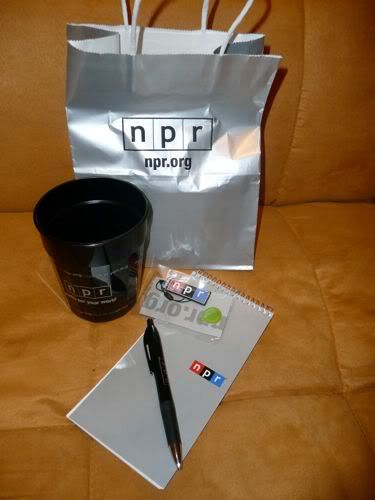 Swag!