Yesterday's Beauty Bar event, MC'd by Jesse Fuchs, was a terrific way to celebrate Georges Prosper Remi's (aka Hergé) 100th birthday (which is actually today). A crowd of about 30 folks were treated to a great show, combining entertainment and information about the great Belgian cartoonist and creator of Tintin.

The evening got started by jasonlittle, who put together a terrific multimedia PowerPoint show of the many dream sequences, hallucinations, and other surreal episodes from the Adventures of Tintin. It was a bizarre trip down memory lane, and a great reminder that Hergé, for all his reputation as an exact renderer and the creator of the "clear line" technique, was actually an inspired surrealist.
Next we had a movieoke-style presentation of r_sikoryak's "The Lost Adventures of Tim-Tim: Prisoners of the Red Planet", a dark but loving homage to Explorers on the Moon, with the voices of the various characters brought to life by Jesse Fuchs (Tintin), Stephin Merritt (Captain Haddock), jasonlittle (Professor Calculus), and yours truly (Snowy). Here's a sample:
Following Bob's piece came mine, "Case No. 714: Georges Remi vs. Josh Neufeld" (newly given the 4-color treatment by my intern Sara), with the same group as above playing the various characters to the audience's great amusement. I'll spare you the panel-by-panel feel of the PowerPoint slideshow and just present it here in page format…
page 1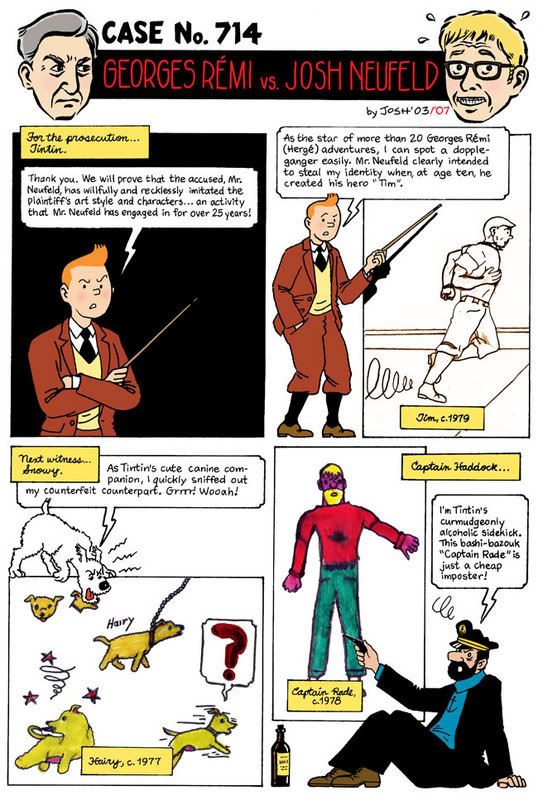 page 2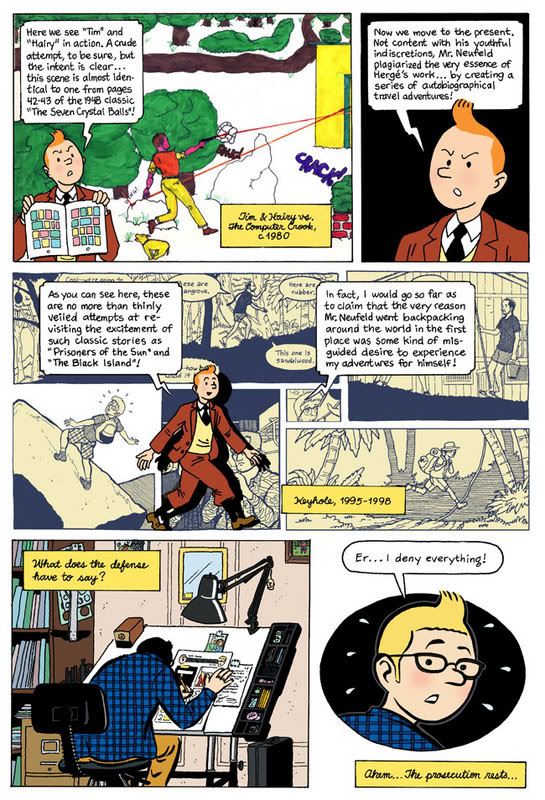 Stepping to the mic next was the eminent Bill Kartalopoulos, who presented a fascinating, deftly delivered PowerPoint show on Hergé, his influences, and the evolution of the "clear line" style. To my mind, it was the perfect counterpoint to the other presentations (including mine), which though they were loving parodies, needed to be balanced with a true appreciation of Hergé's genius.
Finally, bertozzi (and the assembled character voice "actors') presented his wicked Tintin satire, "Nit Nit and the Escapees," which can be seen in its entirety here: http://www.nickbertozzi.com/comics/nitnit/nitnit.htm.
(I must confess to having mixed feelings about Nick's piece, only because I am such a devout Tintin fan and hate to see the character's sweet naiveté submitted to such ridicule. But the piece itself is brilliant in all facets!)
The evening concluded with all assembled treated to a mixture of French pop songs and a showing of the subtitled Anders Østergaard documentary, Tintin & I. In my black market knockoff T-shirt, "Tintin in Vietnam," and toting my Tintin shoulder bag, I was proud to be part of such a fun evening dedicated to the centennial of my all-time favorite cartoonist.