I'm way late in writing about this, but you should check out cartoonist/rocker David Heatley's "Suburban White Girls" video. Written by David when he was 19, it was remixed and re-recorded last year as part of his My Brain is Hanging Upside Down EP — which of course coincided with the release of his My Brain is Hanging Upside Down graphic novel (Pantheon, 2008). And now there's a music video.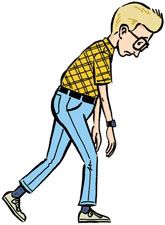 As befitting Heatley's work, "Suburban White Girls" is "an anthem of uncomfortable truth, complex parody, and heartfelt angst." The really cool element of all this is that the video uses cutouts and puppets made from original artwork by over 30 cartoonists/illustrators that David recruited via FaceBook and other means. And — wait for it… I'm one of the contributors! (You didn't see that one coming, eh?) You'd think that with that many different styles and aesthetics, the final product would be an eyesore, but David was very clever in his conception of the project. He asked each contributor for a particular element — in my case, a "nerdy junior high school white boy, circa late 80s early 90s," in full-figure profile — and provided everybody with a specific color palette of just 20 shades. (By the way, is it a coincidence that the character I drew looks a lot like me from that era?)
So the end result is quite cohesive, and really fun. Some of the other contributors are Heatley himself, Chris Eliopoulos, Dave Kiersh, Hope Larson, J.T. Yost, Sarah Glidden, and my old intern Ben Moody, flexing his yellow-school-bus-drawing skills! Check it out; and also make sure to watch the credit reel, which features an example of each artist's contribution to the project; and David's blog, which gives a blow-by-blow behind-the-scenes account of the making of the video.