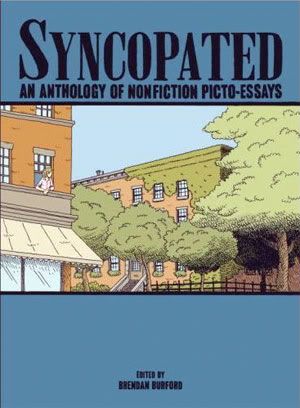 Just out this week is cartoonist/editor Brendan Burford's Syncopated: An Anthology of Nonfiction Picto-Essays, published by Villard. A slightly revised version of my two-page piece, "Father Figures," (originally posted on ACT-I-VATE) is part of the book.
I'm really proud to be part of this collection, which features 16 nonfiction stories (memoir, history, journalism, and biography) ranging from from the history of vintage postcards to the glory days of old Coney Island, from the secret world of graffiti artists to the chess champs of Greenwich Village, from the Tulsa race riots of 1921 to the interrogation of prisoners at Guantánamo Bay.
Other contributors include Burford himself (a very accomplished cartoonist), Alex Holden, Greg Cook, Jim Campbell, Paul Karasik, and our old buddy ! Nick's piece is a fascinating window into a part of his life I knew nothing about, when he was a farm boy (no joke!).
Look for Syncopated at your local retailer, or buy it on Amazon.