Well, we got back to Red Cross HQ at 8:05 a.m. (hitching a ride from the SeaBee base with a couple of nurses) and were too late for orientation. So now we're sitting here in the Joppa Shriner's Hall until the 9:30 session.
I've made a friend. His name's Lou and he's from Carbondale, Illinois, via New Orleans. Like me, he was hoping to be assigned to New Orleans (or at least Baton Rouge), but he's glad to go where he's needed. We're both newbies and have had a couple of meals together, as well as figuring out the sleeping and showering arrangements.
Things are a lot cushier here than I was led to expect. Sure, we're sleeping in a room with 500 other people, but everything else is provided for. They even have pillows, sheets and bedrolls, if you need 'em. I've got all that stuff, but I do wish I had brought an inflatable air mattress. Sounds ridiculous, but a lot of folks did, and it sure beats sleeping on those Army cots. There's no running water, but there are coolers full of water & Gatorade everywhere, and a shower and sink trailer right outside. And Port-a-Potties wherever you look.
The food here is amazing, packed with calories, and really delicious. Prime rib on Sundays! I hope the evacuee shelters are as nice. I must admit to some misgivings about the use of Red Cross funds. A lot of resources are clearly going into infrastructure that could be used in the communities. But on the other hand, it's important to keep the caregivers healthy and well provided-for. This'll keep our spirits up for those 12-hour days.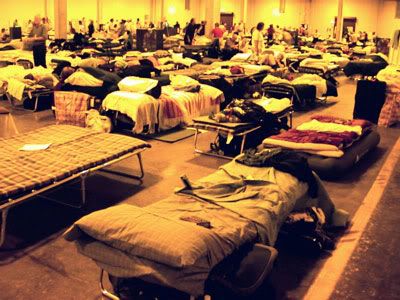 [my new bedroom for the next three weeks.]