I flew into New Orleans Friday night, a double-barreled trip to commemorate the fifth anniversary of Hurricane Katrina and the paperback release of my document of the storm, A.D.: New Orleans After the Deluge.
Dark clouds were in the air as we touched down, and the humidity hit me like a soggy blanket as I stepped into the Louisiana night. My publisher Pantheon was kind enough to book me a room at the French Quarter institution the Hotel Monteleone, famous for its rotating bar and rooftop swimming pool (neither of which, sadly, I got to sample during my trip).
I had made tentative plans to hang out with artist Blake Boyd and his partner Ginette Bone, but they were still at the New Orleans Saints game (where they had gone to shoot Saints' coach Sean Payton) for Blake's Polaroid portraits project. While I waited for their call I was able to catch the last hour of an absorbing Katrina documentary called New Orleans Rising, by John Patrick King. Like many documents of Katrina — from A.D. to Dan Baum's Nine Lives to Mari Brown & Deanna Pacelli's 23 Feet in 12 Minutes — the doc weaves together stories of a number of New Orleans residents as they attempt to make sense of and rebuild their lives since the storm. The most fascinating account was of Darryl Montana, Mardi Gras Indian chief and son of the late "chief of chiefs" Allison "Tootie" Montana. Since watching Treme, and the story of Albert "Big Chief" Lambreaux, I've been interested in the Mardi Gras Indian phenomenon, and New Orleans Rising goes in-depth into the pride and dedication of this unique cultural expression.
Finally, around midnight, I hooked up with Blake and Ginette, who had also made plans to see writer Dave Eggers that evening. Eggers (who very kindly blurbed A.D.) was in town to discuss his incredible book Zeitoun, and Blake had shot his portrait for his project as well. Eggers had expressed some interest in meeting me, and I was quite anxious to meet him, so we all agreed to get together. Blake and Ginette picked me up in the Quarter and we drove out to the St. Claude area, to a wonderful dive called the Allways Lounge. The place had just hosted some kind of wacky event — a transvestite jello wrestling contest, maybe — and they were still mopping up when we arrived. The lounge was filled with that particular assortment of grungy tattooed hipsters which I always associate with New Orleans, and Blake and Ginette, being long-time NOLA residents immediately recognized numerous friends and acquaintances. (In the next couple of days, I talked to at least two other people who had also been at the Allways that evening who I had just missed seeing myself.)
Soon enough I got to meet Eggers, who was just as humble and down-to-earth as I had been told. Turns out he had at one point been an aspiring cartoonist, and really related to my comic book retelling of the characters' stories. Eggers was with some other folks, and after awhile our whole gang headed over to a nearby after-party. The shindig was in someone's upstairs apartment, and was throbbing with dance music and awash with booze. Again, I was struck by the similarity of the evening to scenes from Treme, particularly Davis McAlary's house party. And just to prove what a wonderful small-town New Orleans really is, the minute I walked in I was embraced by Cree McCree, writer, designer, post-NOLA blogger, and all-around great human being.
The group of us hung out at the party until the wee hours, drinking wine and talking about all things New Orleans and Katrina. I was struck by one resident's ironic comment that this "Katrinaversary" was "The one where we pretend it [e.g., the hurricane] never happened." I was already getting a sense of the visceral truth of that statement, that no one suffers from so-called "Katrina fatigue" more than those folks who've had to live with it for the last five long years. As much as New Orleanians don't want the rest of us to forget what happened to their city, they are completely sick of reliving August/September of 2005, and of constantly being reminded of it by the descending media hordes.
By this time it being about 1 a.m. and the party breaking up, Blake and Ginette took pity on me and drove me back to the Monteleone. I had two events scheduled the next day, and I needed to get some sleep.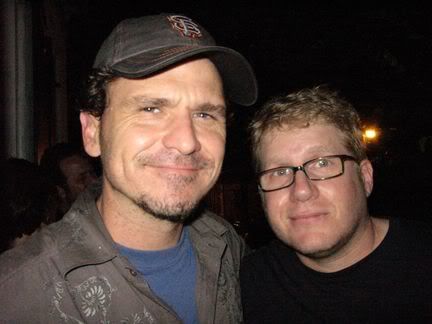 Dave Eggers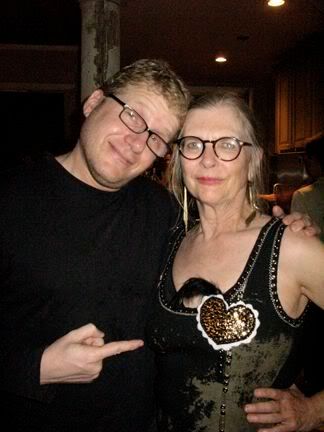 Cree McCree