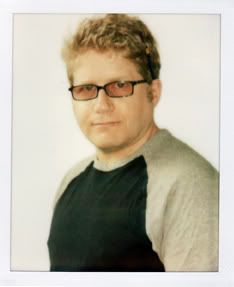 I just had my portrait taken by New Orleans visual artist Blake Boyd. He and his partner Ginette Bone drove up from NOLA (whew! that's no joke of a drive!) for an event, and while they were in town they swung by my place to snap my mug.
The portrait was for a documentary art project, a series of personalities significant in their contribution to the diverse culture of New Orleans pre- and post- Hurricane Katrina. Blake started the project as a response to the devastation following the storm, hoping to present the vitality of the community rather than its near destruction. Born and raised in New Orleans, Blake seeks to reveal the essence of the Crescent City's culture through the documentation of individuals recognized and associated with the city's unique spirit.
I'm honored to be included in that list, which features a range of first responders and local celebrities — Allen Toussaint, Brad Pitt, Kermit Ruffins, Susan Spicer, Irma Thomas, Dr. John, Leah Chase — as well as representatives of local icons like Cafe du Monde, Mother's Restaurant, New Orleans Saints players, and St. Augustine's Marching Band.
I was amazed at how quick and painless the whole process was. Blake brought along a portable backdrop, and we took the photos on the stoop of my apartment building in natural light. He uses one of those cool old Polaroid cameras that produce super-high-resolution photos suitable for poster-sized prints. As you can see from the attached samples, each image is shot the same, head and shoulders only against a white backdrop.
I look forward to seeing this exhibition in a museum and/or book collection some time in the near future — supposedly a London show is in the works…