[Wherein I continue my rundown of the A.D. book tour, picking up in New Orleans on August 23, 2009]
My last full day in NOLA was mostly a day off. Sari & I started with a room service breakfast (one perk of the book tour) and then headed over to Beth's Books, a small store located in the Marigny/Upper Ninth Ward area. Leo came along again as well, but I was most glad to see A.D. character Denise, who drove down from Baton Rouge (where she often stays on the weekends to spend time with her grand-nephews) for the day. It was great to finally introduce her to Sari and to see her in person again after more than a year. She was looking great, and is doing really good work as a Ford Foundation fellow. The crowd at Beth's Books was similar in spirit to that of Maple Street Books the day before, and by the end of the event we had sold out all their copies.
From there, Sari and I drove a little bit around the Lower Ninth Ward, where some of the worst flooding occurred. That was an eye-opener. I had known that large parts of the area were still empty and abandoned, but I wasn't prepared for the desolate, overgrown reality. Block after block of wild grasses, overgrown bushes, and trees, with one or two occupied houses dotting the wilderness. Intersections that were so overgrown you couldn't see the street signs or stop signs. Occasionally a mowed plot of land with just the empty concrete slab where the house used to be. It was all quite shocking, and left us wondering how this once vibrant community of long-time residents could ever be brought back. (After all, four years down the line, many former residents have re-settled — whether by choice or circumstance — in other cities.)
We also happened by the Ninth Ward headquarters of Common Ground Relief, an organization I've been raising money for by having fundraisers and selling A.D. prints. Even though it was a Sunday afternoon, Director Thom Pepper was there, keeping shop, as well as an assortment of dedicated volunteers. Thom showed us around a little and told us in detail some of Common Ground's projects: gutting and rebuilding houses, and working on wetland restoration, hoping to revitalize the natural surrounding flood barriers. Common Ground is good people.
Some shots of our tour of the Ninth Ward: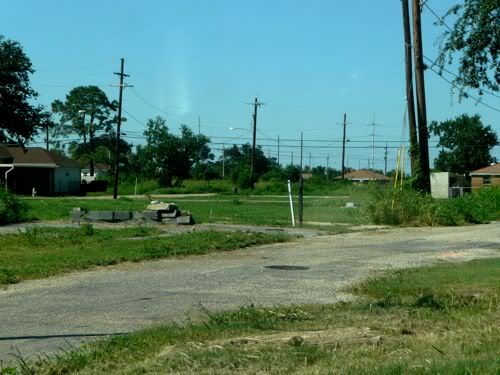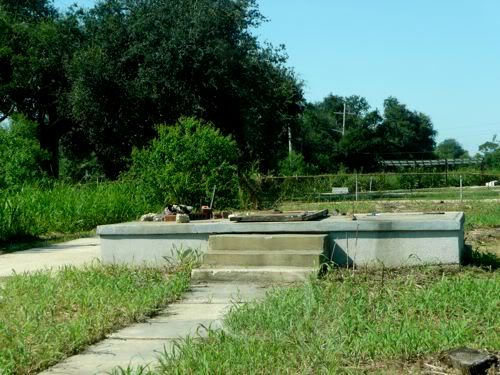 Common Ground Relief
Sari & I capped off our night with dinner at the legendary Garden District restaurant Commander's Palace. Normally we don't have the kind of dough to finance such extravagances, but since my Pantheon "per diem" was still in effect, we splurged. It was fun to be waited on with such personal attention, and upon many people's recommendation we partook of the turtle soup and the bread pudding. (When I told the Doctor about our dinner at the rival restaurant to his beloved Galatorie's, he blinked and then intoned, "Well, I've never forgiven Commander's Palace for bringing Emeril to New Orleans." I could only guess at the acid connotations of that remark.)