Sari's company recently got bought out and absorbed by another company, and they basically shut everything down and let everyone go. They were an educational publisher, and instead of archiving, donating, or selling their office contents, they just threw them away. That meant their inventory, furniture, library, computers, office supplies, etc. were all going in the trash.
They let (ex-)employees salvage what they wanted, so we went over there in a rented truck one Saturday before everything was gone and took a couple of key items, like two flat files, a small bookcase, and a dictionary stand. The whole thing was so depressing — and infuriating: so much useful equipment being unceremoniously tossed.
But what really shook me was when I saw a huge pile of original artwork sitting in a dumpster. As an educational publisher specializing in language arts, the company had for years commissioned illustrations for their various textbooks. Back in the day, before everyone had computers, most artwork of this kind was sent in to the client, where it was photostatted for later placement. The theory was that the artists would get their originals back, though sometimes the company bought the work outright and retained the originals. Presumably, Sari's company had bought the work or had never gotten around to returning it to the artists. In any case, sitting there in the dumpster were hundreds of paintings, drawings, pastels, and pen-and-ink illustrations. And some of these pieces are really gorgeous! As a sometimes commercial illustrator myself, I just couldn't let all that hard work be destroyed.
So I salvaged the art and tossed it in with the stuff I was bringing home. I was determined to at least return what pieces I could. And now, with the aid of my assistants, I've been contacting the artists (when I can track down them down) and letting them know what I have. As long as they can arrange postage or FedEx transport, I'm happy to wrap the pieces up and return 'em. As I said, the vast majority of the pieces are quite old — from before the home computer era — so a good number of the artists have only vague recollections of the illos in question. Nonetheless, they've all been thrilled that I contacted them, and are all anxious to get their stuff back. Which is exactly how I would feel if I were in their place.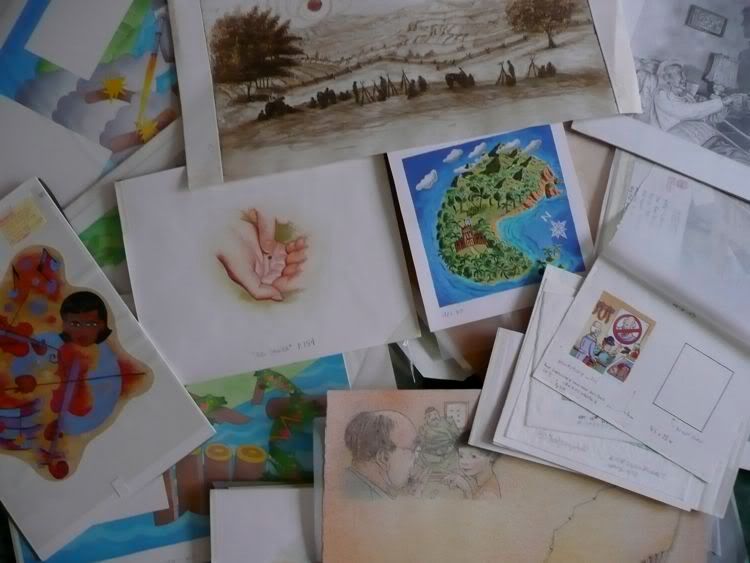 just a small sample of the original illustrations I saved from the trash pile