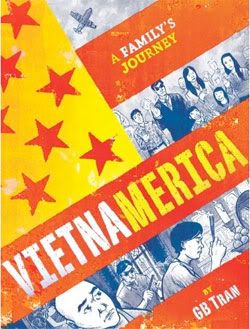 Tomorrow is the debut of GB Tran's remarkable new book, Vietnamerica. He'll be celebrating the release tomorrow night at MoCCA, from 7-9 pm and you should go!
Vietnamerica is both autobiography and memoir, of many generations of the GB's family, both in Vietnam and here in the States. It tells of GB's awakening to the importance of his heritage, his own visits to Vietnam, and stories of family members' life under successive foreign-controlled regimes, the country's mid-1970s independence, and their emigration to America. Quoting from the book copy, "In this family saga played out in the shadow of history, GB uncovers the root of his father's remoteness and why his mother had remained in an often fractious marriage; why his grandfather had abandoned his own family to fight for the Viet Cong; why his grandmother had had an affair with a French soldier. GB learns that his parents had taken harrowing flight from Saigon during the final hours of the war not because they thought America was better but because they were afraid of what would happen if they stayed. They entered America — a foreign land they couldn't even imagine — where family connections dissolved and shared history was lost within a span of a single generation."
I've had the good fortune to read the book already and I was really just blown away, not only with GB's art, which is exceptional — full of beautiful colors, sweeping vistas, thrilling action, and also wonderful intimate moments — but the story itself, which is so complex and multi-layered. It seems at times BG channells Will Eisner, other times Joe Sacco and Art Spiegelman, but always making it uniquely himself. Like David Mazzucchelli's Asterios Polyp, Vietnamerica asks a lot from the reader, but to me that exemplifies what comics at their best can achieve.
I grew up with a fascination with the Vietnam war, mostly due to all the 1970s and '80s movies on the topic. For a long time, I thought about doing a book about my obsession, but I never really could frame it correctly. Well, Vietnamerica has put that goal forever out of my mind: this is the book I could only dream of ever doing.
Many, many congratulations to GB on Vietnamerica. I already consider it my top book of 2011 — I can't imagine anything else topping it this year.
Details:
Price: Free Admission
Date: January 27
Time: 7 to 9 PM
Place: 594 Broadway Suite 401 NYC