I love free stuff. I guess I get it from my mom, who's a total dumpster diver. Over the years, I've populated my apartment with great things found on the street, from framed artwork to furniture, from computers to, yes, a kitchen sink. But this last month has seen a deluge — of comics.
What started innocently enough with a pile of comic strip trade paperback's in the apartment basement steamrolled into a "comp box" of DC books, a donation of review copies of new graphic novels, gifts from friends, and then more comps from DC. I now own hundreds of new comics and graphic novels, none of which I paid for (or ever would have paid for). But part of the whole free thing is I gotta read 'em, so I've actually been checking out things (like, gasp! superhero comics!) which I hadn't read in years.
Here's the rundown:


These books appeared in my basement one morning and I dutifully brought 'em upstairs. I mean, who can resist the entire collected adventures of both of those lovable orange cats, Garfield and Heathcliff?! Oh, and two Marmaduke TPBs (another orange animal — is there a trend here?). Not to mention a Far Side collection, Wizard of Id, Family Circus, and Beetle Bailey, and two strips called Belvedere (a dog with an orange-colored feline co-star) and Pavlov. Whatever!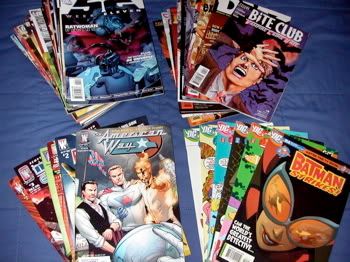 Things really got rolling when a mysterious box showed up at my door filled with what seemed to be every single title DC was putting out that month. The box came directly from Quebecor, the printer, and I have no idea why I got it. man_size was incredulous that I had received one of these mythical "comp boxes." He couldn't get over the irony that I, a guy who hadn't worked for DC in over a decade (and had yet to draw the story I just completed for American Splendor #3, coming from Vertigo in November, plug plug), got one while he, "Mr. Mainstream." had to go to the comics store every Wednesday and buy his weekly batch like every other shlub out there! Anyway, the box was filled with individual comics from DC, Wildstorm, and DC's kiddie line, Johnny DC or DC in Demand.
The box also held a bunch of CMX manga, which I gather is published by Wildstorm, which is owned by DC…
… and a random collection of graphic novels/trade paperbacks, including Gilbert Hernandez's Sloth, which I was pretty psyched to get. The photo doesn't even include the Exterminators and Testament GNs, which I read and passed on to man_size ('cause he doesn't have enough comics).
So, shortly after I was finally able to unpack and organize the comp box, I ended up with man_size on a visit to the DC offices to drop off our American Splendor pages. Editor Jonathan Vankin wouldn't let me leave without loading me down with more free stuff. The best of these (actually the only one I've read so far) was Brad Meltzer and Rags Morales's Identity Crisis. That book kicked ass! As a big fan of 80s DC comics, and the Dick Dillin- and later, George Pérez-Justice League, I totally geeked out over that one. man_size informed me that Identity Crisis had been the big story of last year, but I'm new to the bandwagon and actually plan on checking out Meltzer's relaunch of Justice League (Well, okay, 'cause I got the first couple of issues of those free, too., thank to…)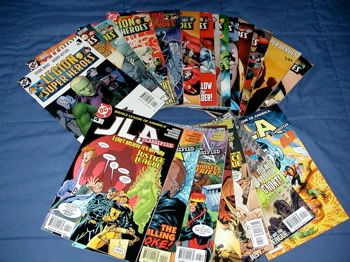 the aforementioned, "Mr. Mainstream," our old buddy man_size, who seems to take it as a personal affront that I don't read superhero comics anymore. On a recent bike ride, he donated me a stack of DC books, specifically recent runs of Legion of Super-Heroes (another one of my old favorites, especially the early 90s run by Keith Giffen and the writing team of Tom & Mary Bierbaum) and JLA Classified. Thanks! More crap to read!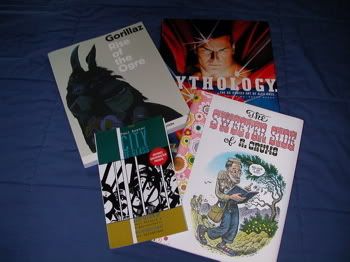 The final bizarre piece to this puzzle was added by my downstairs neighbor, a book reviewer for a local newspaper, who has been leaving GNs outside my door for the past week. I couldn't care less about Gorillaz, but the Crumb book looks entertaining, and the Superman Mythology book is signed by Chip Kidd (do I hear eBay, anyone?). And of course City of Glass, by Auster, Karasik, and Mazzucchelli, is one of my all-time top ten favorite comics.
So there we go: a newly cluttered apartment, thanks to about ten different gift horses. (I don't count man_size and sazzabee's gift of Alison Bechdel's Fun Home, a fascinating and powerful book I'd recommened to everyone, because that was a birthday gift. Thanks, guys!)
It's funny, back in the day, like 15 years ago, a windfall like this would have been my ultimate fantasy. Nowadays, I just keep thinking about how dangerous the pile of books next to my bed is getting!
But I'm not ungrateful, no sir. I'm just gonna have to work on my speed-reading skills.